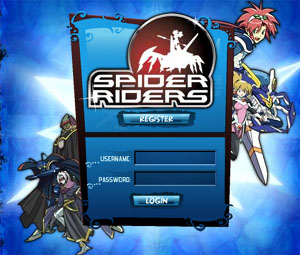 Battle for Arachna is an online Spider Riders computer game, found at Teletoon.com/Spider Riders. The online game was launched almost simultaneously with the North American release of the television series, to help promote the show. Instead the show ended up promoting the game. Because of the games success, the web site received a website award. Despite this, the game was eventually shut down by Teletoon.
Plot
The game originally took the player through fifteen levels, where they would play as a self-invented Spider Rider (given a selection of hair and clothing options to create variation) and defeat various enemies, some of which appeared in the animated series. It used a card game-style combat system. The game also featured three bonus levels, which could be unlocked via password only.
Missions
Characters
Many characters from the television series appear in the game. Also, many original characters, most of whom are Invectids appear to have been created specifically for the game.
Series Characters
Original Characters
Assassin Bee
Big Nasty-Tat
Chompede
Chiggerwigz
Dark Flying Invectid
Flying Invectid
Gasplash
Invectid Driver
Pinchmite
Pinch Pounce
Punch Hopper
Shumdigger
Small Nasty-Tat
Spined Krail
Talonpole
Cards
One of the main features of the game is the use of a card system. The player must collect all Battle Cards that have been scattered throughout each level.
Multiplayer
The game was expanded upon, turning it into an MMORPG. However, this could only be unlocked when the player completed the first three levels of the original game. What the player completed in the first game effects how much of the second is playable. Periodically, new in-game events were launched.
Trivia
While there are similarities, many of the events in the game happen very differently from how they are portrayed in the television series.
Several characters from the animated series went by slightly different names. Katydid was renamed Cathy, Stags was renamed Stag and Aqune's name was changed to Aquine.
Like the novels, the humans of the Inner World are referred to as Turandot.
The Invectids known as "Flying Invectids" greatly resemble Buzzrays, but are not referred to as such.
The television show was produced by DHX Media, but the game was produced by "FrimaStudio". There is currently someone trying to contact Frima to ressurect the game.