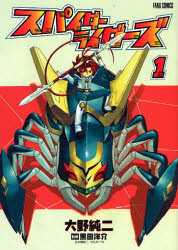 The Spider Riders (Manga) was a manga series that premiered at TV Tokyo's website, illustrated by Junji Ohno of Studio 23.
Web Comic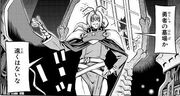 The Spider Riders manga series, written by Junji Ohno of Studio 23, began its serialization online on May 31, 2006. It was first hosted on TV Tokyo's website for the anime. Since then, it's appeared and disappeared in various other places, but is currently unavailable. On June 19, 2007, the manga began it's serialization in Fang magazine, published by LEED. However, LEED chose to suspend the manga's publication in September 2006, ending the series after only 10 chapters were released altogether.
The art style in the manga differed from the anime, and was criticized for being unattractive. The manga followed the anime somewhat, but there were various subtle differences.
TV Tokyo
Volumes 1-6 volumes were removed on 2006-11-29.
The seventh and final volume was published between 2006-11-29 and 2006-12-27 ... or possibly earlier since it was linked here September 11th.
Monthly Fang
Starting on December 27, 2006, the manga was republished under Monthly Fang Comic site, when two more chapters of the manga were later released, bringing the total to 9 chapters.
The web comic was first published in paper form on June 19, 2007, by the Monthly Fang Comic publisher LEED Publishing Co., Ltd.; the online chapters were removed soon after. Currently, the manga is not available.
The web manga has an alternate beginning, where Hunter Steele enters a spider-shaped monument and discovers his Manacle floating above a spider web. Hunter wears the Manacle when it flies to his hand and falls into Inner World through a gap between web strings.
Inside the Inner World, Hunter discovers Shadow after peeking at the bathing Corona and after trying to rescue a cart of caged humans. Each chapter of the web manga ends with the Sparkling Sparkle section, following the adventures of Princess Sparkle of Arachna and Hotarla in 4-square manga format.
Boy's Fang
In the Boy's Fang manga version, certain scenes are re-edited; for example, Corona is now naked instead of being underwear when Hunter first met her in chapter 1, an illustration is added at the beginning of each chapter, and Sparkling Sparkle segments have been removed.
Gallery
Aqune caps
Links
Neither sets of links currently work, the comic is inaccessible, looking for ways to view. It is currently unknown if it has ever been translated to english.
Tokyo:
Fang: